---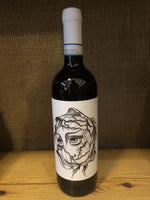 Benazzoli "Dafne"
2019
Bardolino (Northern Italy)
80% Corvina, 20% Rondinella
The easiest-drinking Italian red you'll ever have. Strawberry notes mix with subtle tannins and gentle acidity to make the rare Italian red that doesn't need food to truly shine. Drink this on the couch at home, and break out the prosciutto or caprese salad for a luxurious night in. Or take it to a party – this wine is a crowd-pleaser!
ITALY